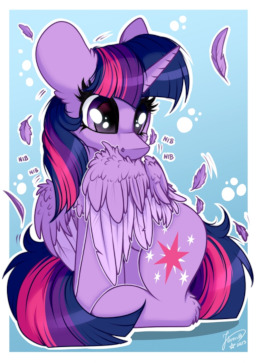 Source
Twilight's been having weird, unfamiliar urges ever since she became an alicorn. Like an intense desire to grow flowers, or the fact she can't stop chewing on her wings when she's distracted. As it turns out, you can't just suddenly inherit the magic of all three pony tribes without getting the instincts to match, and instincts can be a powerful thing. Doubly so when you're not used to them, and especially when they're telling you that your best friend with the gorgeous wings would make the perfect partner to share a nest with.
Wait, what was that last part?
---
Originally this was supposed to be a birthday gift for Celysus, but I fell in love with the idea so it's gonna be a full fic now. You can't stop me.
(Rated teen for mildly suggestive flirting)
Chapters (2)