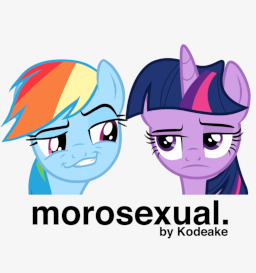 Rainbow Dash has important news to share with her friends; she's pregnant. Obviously, this comes as a surprise to everypony, especially Twilight, given that the two are currently dating.
In other news, Twilight finds out she might be a morosexual.
(Rated teen for discussions of sex. No actual sex happens.)
Pre-Read and edited by Rimmer.
Cover art by ModMCdl because he doesn't like it when I don't use cover art.
Chapters (1)