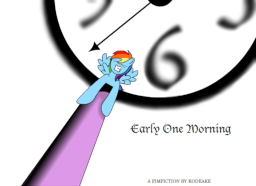 Source
One early morning Twilight is woken up by the sound of somepony knocking on her door. To her surprise she finds Rainbow Dash on the other side, only the mare seems off. Disgruntled and panicked, the more she talks, the more Twilight is convinced there's something wrong. What happened to her?
Cover art generously provided by the wonderful Angelic Flight over on DA. Go give her some love.
!!WARNING!!
Spoilers in Comments. Read before the story at your own risk.
EDIT: Now with a Youtube reading! Link
EDIT: Now with TWO Youtube readings! Link #2
Chapters (1)