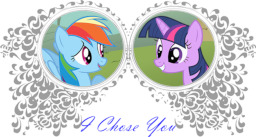 A week ago, love was in bloom. Cadance, the Princess of Love and Shining Armor, Captain of the Royal Guard defeated and banished an invading army with the power of their love alone.
So why can't their sister start a conversation with her marefriend? They're already dating, for pony's sake! Maybe they just don't know each other well enough yet...
Cover art and proofreading done by the incomparable Noble Thought. Thank you for the help, my friend. Check out their blogs on writing. You'll learn something.
One hundred percent approved by Twilight's Library.
Chapters (1)