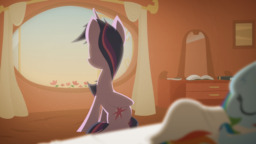 This story is a sequel to More Than Dreams
---
Months have passed since Twilight Sparkle brought Rainbow Dash to visit her parents in Canterlot, and now it's time for her to return the favor. This time, however, neither of them is carrying a secret to reveal.
Rather than relaxation, she soon learns more about Rainbow's life than she ever bothered to ask about. Twilight tries to understand the past, what foundation for a happy life might exist beyond what she knows, and what new challenges their life together might face.
Edited by Noble Thought.
Chapters (4)