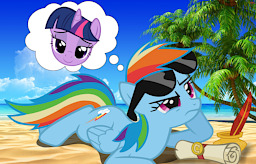 Twilight is stuck in a lengthy diplomatic meeting and can't spend her time with the other girls during their beach vacation. Her being away causes Rainbow quite some distress – not only because she's missing her, but also because there is a thing she needs to discuss with Twilight.
So when Twilight starts sending letters, Rainbow is excited. And she decides that she doesn't care if Twilight is on a tight schedule – Rainbow Dash wouldn't be Rainbow Dash if she couldn't come up with a solution!
Written for the Third TwiDash Group Contest.
Cover art credits: Rainbow Dash, scroll, ink and quill, Twilight Sparkle.
Chapters (3)