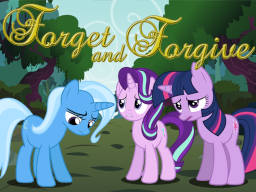 Starlight Glimmer finds out that a part of her memory has been erased. And not only hers, Twilight Sparkle's, too.
But when they have their memory restored, they have to deal with the terrible mistake they have made. They have to come clean with Starlight's fillyfriend Trixie, and somehow figure out with how it could have happened if they want to salvage Starlight's relationship.
Vivid memories of the night in question are not proving to be particularly helpful.
---
An entry for the Two-Faced Charade Contest.
---
Cover credits:
Everfree Forest, Trixie, Twilight, Starlight
Chapters (2)