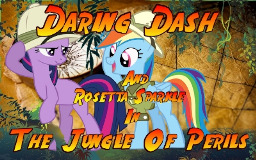 After an argument with Rainbow Dash about the romance plot in the latest Daring Do issue, Twilight Sparkle constructs a machine that allows two ponies to enter a novel, in order to learn more about Rainbow's obsession with pairing Daring Do with her bookish sidekick Rosetta.
Soon, the two find themselves in a Daring Do adventure, with Rainbow taking the name part and Twilight playing Rosetta. As they deal with ancient jungle ruins, mythical artifacts and old adversaries, Twilight is starting to see the appeal of the pairing.
But after all, it is all just fiction, and what happens in a novel has little to do with the real world, right?
Written for the TwiDash Group's Abandoned Fic Challenge.
Rated Teen for some violence, some very tame makeouts, and a slightly inebriated pony.
Chapters (14)