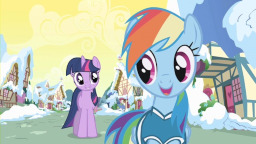 Winter Wrap Up heralds the coming of spring. It symbolizes the end of the long cold haul of winter and the rebirth of the land. It also happens to herald the coming of change and the budding of new love. This year, Twilight Sparkle finds herself struggling with strange feelings that only seem to surface when she's with her best friend, Rainbow Dash. Will Twilight be able to figure out what these 'feelings' mean and be able to manage the stress of coordinating Winter Wrap Up? And what will Rainbow make of these feelings?
Big thanks to The Abyss for doing a superb job editing this!
Edit: Featured March 21, 2013!!!
Chapters (1)