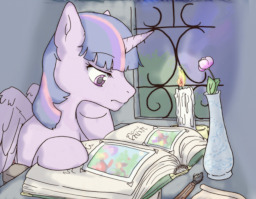 Source
Walking away from the smoldering ruins of Golden Oaks, Twilight said she was fine. As she bid her friends farewell and settled into the new crystal palace, she said all was well. Why then has nopony seen her in days? When Spike comes running in a panic, Applejack decides to investigate.
After all, in a world filled with change, a pony can always rely on the comfort of a friend when in need. In this case, Twilight is in need of a friend, and Applejack will be there for her.
Prereading by Tchernobog and Carabutt.
Editing by Auramane and Zaphod.
Cover art by Rossby Waves.
Chapters (1)