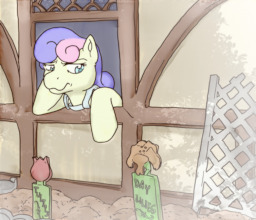 Source
To earth ponies, there is little more important than tradition. Foals grow up taught everything from family recipes, songs, dances, to folk tales passed down from generation to generation. Of these traditions, none is more valued than a proposal, an offer to entwine your life with somepony else's.
To Bon Bon, nothing is more important to her than Lyra, and nothing matters more than making sure that her proposal is perfect.
Now, if only perfection wasn't so elusive.
And if only it was as easy to grow flowers as every other earth pony makes it seem.
Preread by auramane, Melon Hunter, and Carabutt.
Cover art by Rossby Waves.
Chapters (1)