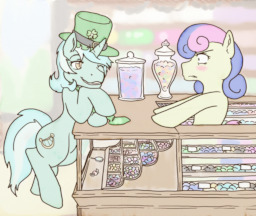 Source
For the Heartstrings family, Saint Paddy Wagon's Day is the most celebrated day of the year. They have long believed that the luck of the Neighlish flows through their veins, and that on Saint Paddy's Day anything is possible.
This year, Lyra decides to put that luck to the test.
Her target: local candy maker and longtime mare of her dreams.
Her tools: the indisputable luck this day will bring her and only the finest, corniest, holiday-appropriate, and most-guaranteed-to-woo pick-up lines around.
Bon Bon doesn't stand a chance.
---
Preread by Fahrenheit and Carabutt
Edited by auramane and Jondor
Cover by the amazingly talented Rossby Waves
Chapters (1)