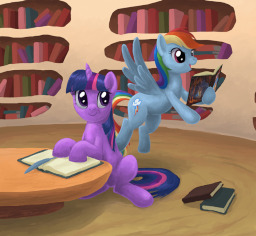 Source
After a dispute between Twilight and Rainbow about the latest Daring Do novel, Rainbow struggles to make Twilight see things her way. Yet, no matter what she tries, Twilight is adamant that what Rainbow believes is unrealistic and could never happen. However, a day of baking shenanigans and a night at Twilight's soon makes Rainbow question how she feels towards her friend. Could there be something more than just friendship between the two?
Written for the Second TwiDash "Abandoned Fic" Contest. The rules of engagement can be found here.
Edited by The Abyss and DarqFox.
Cover art used with permission from Choedan-Kal
Chapters (6)