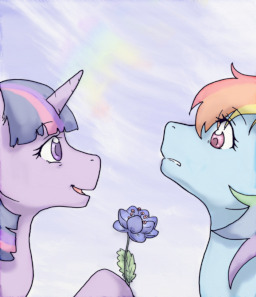 Source
The Chaos Rose is a unique flower that only blooms once a year on Hearts and Hooves Day. It is a symbol of unyielding love and affection between ponies and is sought after as one of the greatest and most treasured gifts of the holiday.
So, what will happen when Twilight Sparkle buys one and gives it to Rainbow Dash?
And, more importantly, what will Rainbow do when everypony becomes convinced that Twilight must be in love with her because of it?
Prereading/Editing by: Carabutt, Auramane, and Zaphod.
Cover art by Rossby Waves.
Chapters (5)