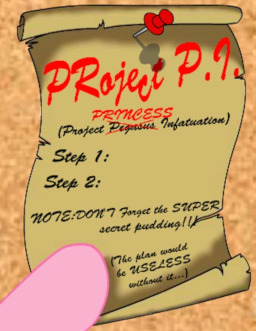 Source
Project PI, as named by its creator Pinkie Pie, was the ultimate in fool-proof plans to woo a certain lavender alicorn. Unfortunately for Rainbow, the mare for whom the plan was made, it was a plan made by Pinkie Pie. Which means nothing is as it seems, and it involves chocolate pudding.
A lot of chocolate pudding.
Cover art generously provided by Angelic Flight over on DA. Go check her out!
(Takes place between season 4 and 5)
Chapters (1)