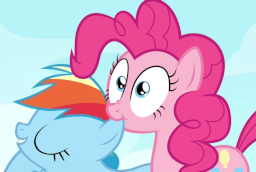 Source
Pinkie Pie learns the weirdest thing about ponies in love; they nibble each other's ears.
But, why?
Pinkie needs to know.
---
Warning: This story is a slow descent into wat. It's mainly Random & Slice of Life, with minor Comedy and Romance elements.
An entry for the January 2016 write-off event, with the prompt "Look, I Can Explain…".
Chapters (1)