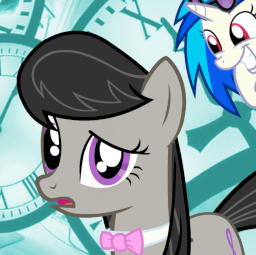 Source
A madcap Octascratch comedy wherein Octavia is having a quiet afternoon alone in the house and decides to eat the last of Vinyl's vanilla pudding cups from the fridge. Doing so is more difficult than she expects, especially when a time-traveling Vinyl appears with super-big news from a dark, apocalyptic future. Things quickly get out of hoof.
Teen and Sex tags for bow chicka wow wow innuendo of the Octascratch kind.
Cover from images by jaybugjimmies and an untagged artist on Derpibooru.
Rated P for Pudding
Chapters (1)