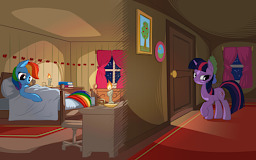 Twilight just can't understand why Rainbow Dash became so upset over something so minimal. After all, Daring Do only kissed her romantic love interest; there's nothing harmful about that! However, as she starts to piece together just what it is that's going through Rainbow's mind, she begins to find herself thinking about subjects that she had been too busy to even really consider before.
---
Written for the TwiDash Group Abandoned Fic Challenge.
---
Cover-art commissioned by me from MysticAlpha.
Chapters (1)