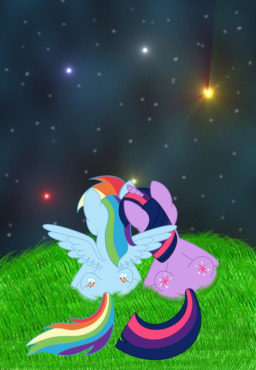 Source
Some gifts are insignificant, only to be given to someone, then to be re-gifted once again. However some gifts are extremely important. They might not be expensive, no flashy by any means, but they are the aspects of our lives that mean the most.
Rainbow has tried for what seems like ages now trying to tell Twilight about her true feelings for her. All of her other friends have already noticed, but the mare of her dreams still remains oblivious to her feelings. However one day, Rainbow finally decides to tell Twilight how she feels, and she stumbles upon the perfect present to help sum up her feelings should she not be able to tell Twilight directly. Will Twilight accept the gift? Or will she turn it down? Either way there will be a decision made, and it will change the two forever.
So this is a small thing that I decided to do to help relieve my writer's block on When A Door Closes, so hopefully guys enjoy this one as much as When A Door Closes. That still amazes me that it was recieved so well but hey I am not going to complain that much.
This was mostly written on my 1 hour commute to work, as the bus system here in Ottawa can be absolutely terrible if you need to get anywhere. Although it is a huge pain in the ass trying to write 2000 or so words on a small phone. Not the nicest piece of typing equipment.
And yes I know the description is awful. I'm terrible at them...
Chapters (1)