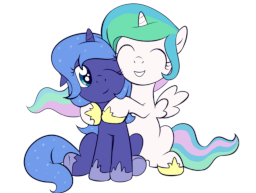 Princess Luna has raised the moon countless times in her life, but tonight was the first time she received a gift and an invitation to Celestia's chambers after doing so. While she accepts, she can't understand why the offer was made. There was nothing special about the day.
But she's wrong. Today was the day the newest letter from Ponyville arrived.
Cover art: My Sis by averagedraw.
Chapters (1)