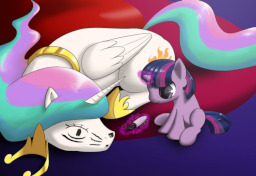 Twilight Sparkle is a gifted student when it comes to math and science, but even the smartest unicorns can struggle to control their magical abilities. And when precision fails her in her latest assignment for art class, Princess Celestia is more than happy to offer her help in overcoming the challenge.
To some extent, at least.
Cover art: Celestia Napping by Skecchiart.
Thanks to Noble Thought for pre-reading.
Chapters (1)