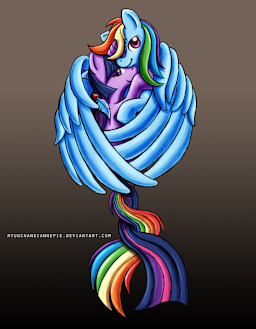 Source
This story is a sequel to I Chose You
---
Trust is a funny thing.
Why hadn't she trusted her parents? Her brother? Her sister-in-law?
Why was she so afraid to tell them the truth?
Why couldn't she just tell them that she loved mares? Loved Rainbow Dash?
Fear is a funny thing.
Edited by the incomparable Noble Thought.
Cover art: Entwined by NyuuChanDianePie.
Chapters (1)