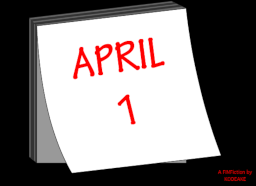 Source
Rainbow Dash asked Twilight Sparkle out on a date. On the first of April.
When one pony plays a prank, and the other lays out their heart for all to see, disaster is bound to follow. A prank is by definition dishonest, but you don't need to lie to pull a prank.
I hate doing descriptions...
Happy April Fool's day! I felt guilty for not doing a Valentines day special so you get a special for a minor holiday instead!
Cover art generously provided by the wonderful Angelic Flight over on DA. Go check her out!
Chapters (1)