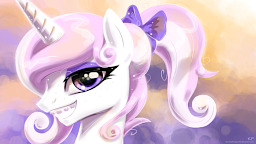 Fleur was never one of the so-called "popular girls". She had glasses with big thick frames and braces she would kill to get taken off. She didn't consider herself beautiful or interesting in the slightest.
That is, until she met Fancy Pants, who showed her just how beautiful she could be.
---
Review by Fantasia Archsage here.
Chapters (1)