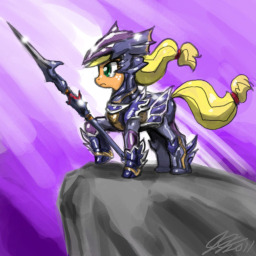 UPDATE: 8,000 unique views! Wow! I'm incredibly flattered!
Plowpony's Day- a day of peaceful rest and relaxation. Or it was, until Twilight Sparkle badly mangled a teleportation spell. It has left her with a bad case of Horn Rot, a disease that if untreated could prove fatal. What's more, the malady is advancing faster than the slow-brewing potion that cures it!
There is one swifter cure: the Beneviolet, a star-shaped flower that grows in the distant Archback Mountains, far beyond the western borders of Equestria. Applejack, Rainbow Dash, and Rarity choose to undertake the long journey for the sake of their friend. Their path will wind through floes of ice, across gold-tinted plains, into distant forests glimmering with magic. They will learn much about the world beyond their homeland- and much about themselves, as well.
Yes, it's "Dangerous Business," here on FIMFiction. A huge debt is owed to all those who have supported me over the years. I've edited the story some to remove extraneous bolding and italics, but other than that, it remains unchanged. I hope new readers enjoy it as much as old ones did.
Chapters (20)