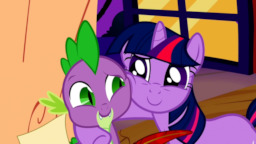 Source
This story is a sequel to It's a Dangerous Business, Going Out Your Door
---
The great adventure achieved its goal. Twilight Sparkle was cured of her deadly horn rot, her friends came back safely, and everything can go back to normal.
Except, of course, that such an upheaval is never truly forgettable. It leaves its mark on all who take part in it, touching and changing them in ways they may not, at the time, completely understand. Like the pressure in the earth that turns coal into diamonds, the stresses of disaster--or its near aversion--alter the natures of ponies, and alter the relationships between them. Twilight Sparkle, on a seemingly ordinary day, is about to learn that first hand.
________
This story has been floating around since shortly after Dangerous Business' completion. At the time, I envisioned it as the first in what would be a whole cycle of stories, building up to a monumental, multi-story tale very similar to what eventually became Besides the Will of Evil. It's not quite 'canon' to BTWOE--for one thing, Twilight and Spike's relationship here isn't what it is in there, since the later clarifications by the showrunners were taken into account with the later story. However, I like to think that the spirit of this story still informs the later, larger story. Astute readers will also see a clarification of something that was only hinted at in BTWOE. I hope old readers enjoy their fond memories, and that new readers enjoy what has long been a fan favorite.
Chapters (1)