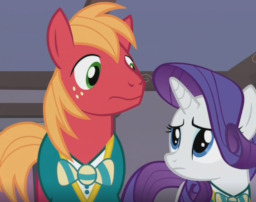 It was only a few days ago when I lost my voice and Fluttershy had to sing in my place with the Ponytones. Then, just the other mornin', Rarity's asked me out to a big fancy dinner in downtown Ponyville. What could this mean? Have I done somethin' wrong? Is she finally kickin' me out of the quartet? Or, even worse, could an elegant unicorn like that actually be interested in a stallion like me?
I ain't no good at reading ponies, and I'm even worse at speakin' my thoughts out loud. Rarity is a nice, elegant lady, and I'd be a plum fool to hurt her feelings. Still, the truth's gotta come out somehow. There's only one mare in this-here town who strikes my fancy, and it ain't her.
Based on an idea given to me by Propmaster.
Chapters (2)