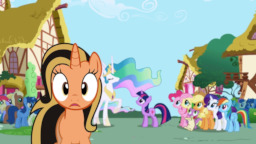 Source
Twilight Sparkle and her best friends are in deep trouble... yesterday.
Starlight Glimmer's been holding onto a secret for a long time now. Her old villainous days of messing with Starswirl the Bearded's spell alerted an alternate dimension full of shape-shifting monsters, and now this malevolent faction from beyond seeks to send their minions back in time to the first year of Twilight's stay in Ponyville in order to consume the magic of harmony. So, to secure the timeline and save the multi-verse, Starlight has devised a plan to project herself back several years and play bodyguard for the Elements of Harmony.
There's only one problem. Her great and powerful best friend steps in during the execution of the spell. Now both Trixie and Starlight are stuck back in time—fused magically to the same physical avatar—with an incredibly difficult mission to accomplish during the first year of Twilight's friendship lessons. Can the two time-displaced mares work together to thwart an alternate dimension's meddling? Or will they fail and hoof the future over to chaos? Even worse—will they get too relaxed with the comforts of the past and miss an opportunity to be heroes?
---
Credit to KeronianNiroro for the vector
and
Scampy for the edit.
Chapters (6)