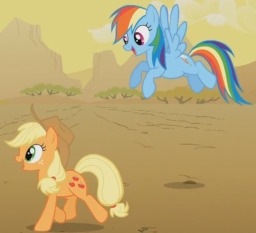 "Oh come on, Applejack! Just one trip around the clouds! One!"
It's an invitation that Applejack has heard countless times. However, no matter how often Rainbow Dash bugs her to experience an air ride, the farm filly flat out refuses.
Then one afternoon, on a day when Applejack is strangely quiet and distant, she suddenly agrees to Rainbow Dash's persistent request. The pegasus happily oblidges, not knowing what has truly motivated Applejack to give in, nor the fact that--more than anything--Applejack could really use a good friend right about now.
Chapters (1)