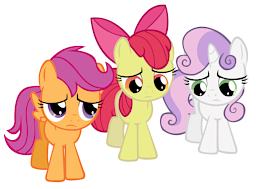 After a near-death experience concerning a manticore, the Cutie Mark Crusaders are faced with their own reactions, or lack thereof.
But what would their sisters have done in their place? And is it possible that they're not as perfect as the fillies always thought of them?
Disclaimer: This story does have a Happy Ending. I don't do stories without.
Edit: We made it into the Popular Stories Box. A big thank you to everyone who made that possible.
Chapters (2)