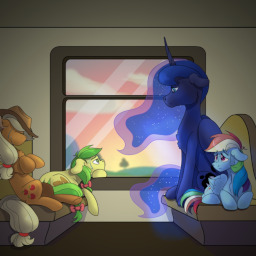 Rainbow Dash was not a pony built for emotional talks, long train rides, and deep conversations. She often considered herself to be the exact opposite of those things.
While in the company of three very different ponies, Rainbow begins to wonder what she's meant to do when the situation calls for anyone but her.
---
CW: the death tag is for a character dying of cancer. No physical on-screen death occurs in the story. This story could be rated E however needs a T rating to get the death tag.
Entry for the Renaissance Contest. Preread by the ambidextrous and enigmatic SunlightRays, the vigilant and incomparable applejackofalltrades, and the ingenious and ineffable wishcometrue. Cover art by the glorious and confluent Mushroom.
Chapters (2)