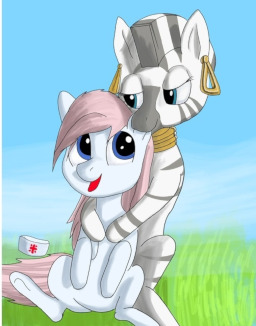 This story is a sequel to A Heavy Syringe
---
Redheart was dumped by her long distance girlfriend Kerfuffle. As much as it hurt it was inevitable. After Tenderheart finds her beloved sister depressed on the floor she vows to help. All she has to drag Redheart to the fortune teller. None of them expect what happens.
This is an anthology about the relationship between Redheart and Zecora. Each chapter is its own story. I wanted to watch the relationship develop so I thought this would be better than a large story. So hopefully it works.
This is part of the PRN series which starts with The Q Word. But you don't have to know all that to read this.
Chapters (1)