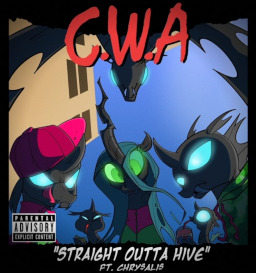 Source
Queen Chrysalis, disguised as the Notorious B.U.G., has been practicing her free styling skills and feels finally confident enough to challenge the reigning champ, Pinkie P. If she can defeat the champ the crowd will love her and fill her with the love she needs.
It's the blood moon and the urge to battle brings the contestants to the arena. A third combatant is drawn into the fray that neither expect.
This is more of crack fic I wrote for a BWG prompt. Thought it might be fun to put it out there. Thanks to Xervis and Sleepless for editing. And thanks to Queen Chryssy for the inspiration to publish it.
Chapters (1)