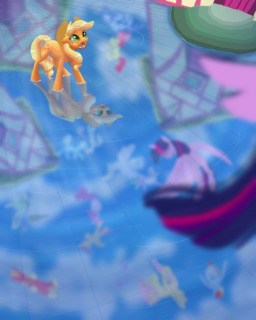 Source
Applejack wakes up one day to find that everyone in Ponyville is floating. But she'll fix this. She has to.
---
Second place story in the Black Sunday contest hosted on Quills and Sofas.
Cover art commissioned by the ever-talented Shaslan!
Edited with feedback during the contest by Seer, Mushroom, LostinFandom, WishComeTrue, Vis-a-Viscera, Shaslan, AuroraDawn, Decaf, and Silent Whisper. Edited again after the fact by Shaslan (told you she was ever-talented).
Chapters (1)