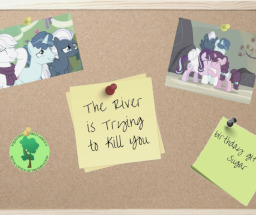 "Most things out here are ambivalent. The animals, the forest, they don't care about you. But the river? The river is trying to kill you."
"I have found that in our darkest days, we judge ourselves not in terms of what we can do, but in what we fail to do."
---
CW: death by drowning in the background, implied suicide attempt
Entry for the Twilight Files contest. This story is a media fic best read on the site. If any piece of media is not working (and Red is still active on FimFic) please let him know.
Chapters (33)