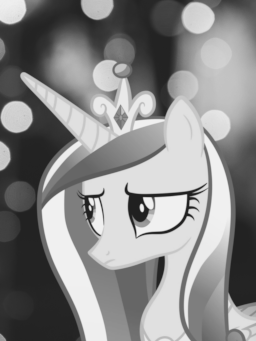 Love is so much more than warm hugs and kisses. Love is a language. Love is what we dream of, what we never had. It's everything we've left behind. Above all, love is being brave.
Content Warnings: this story involves the discussion of deceased loved ones in various forms. The story itself contains no actual on-screen deaths.
---
An entry for the Quills and Sofas Princess Cadance Contest, where it placed second. Thank you to Snow Quill, Shaslan, Emotion Nexus, Lofty Withers, wishcometrue, AFanaticRabbit, Applezombi, Seer, Decaf, Undome Tinwe, and NovelleTale for letting me break your hearts.
Other characters in the story: Big Mac, Cherry Berry, Daring Do, Cheerilee, Luna
For Lost. I hope things get better. <3
Chapters (1)