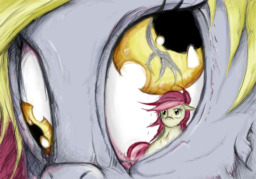 Source
Most ponies assume that something is wrong with Ditzy Do's eyes. Theories range from a head injury to a genetic disorder to muscle damage behind her eye. The crueler folk suggest she's just retarded. Nicer ponies say it's just a party trick she never got tired of.
They're all wrong. They're all very, very wrong.
I discovered the truth one day in conversation with her. One eye would always look at me, and the other would wander. At least, I thought it was wandering. So while we were talking, I followed it. Goddess in heaven I wish I had not. Never follow the other eye. Ever. Because Ditzy Do's eyes work fine.
She's just watching something. That... thing that's always in the corner of our eyes. And if she looks at you with both eyes?
Goddess save you.
----
Preread by BrastaAAura17, Chase Cosmicwing and dreamingnoctis. Cover art also by dreamingnoctis. Guy's a bro.
Chapters (13)