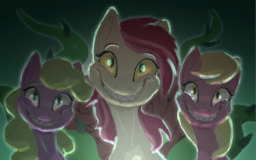 Source
The old potionmaker lives deep in the woods with her adopted daughters Lily and Daisy. Their days together are simple and sweet, and the flowers in their garden bloom every summer without fail. But in the darkness of the Everfree something else is stirring, and its roots stretch deep.
---
Written for the Q&S Flower Ponies Contest.
TW: Some gore and horror.
Chapters (1)