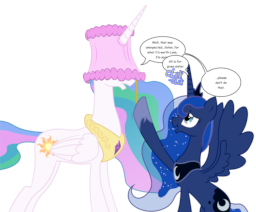 Source
Princess Celestia is the paragon of everything good and pure. Noble, fair and righteous. Beloved by all, and pillar of stability for Equestria since the time of Discord.
And currently not available.
My name is Frank, the new guy in charge of this body. I'm here to fulfill all your princess needs, until I find something better to do.
Human turned X fic. Post Season 3, but ignores season 4.
Cover art by Nun2artzy
Chapters (22)