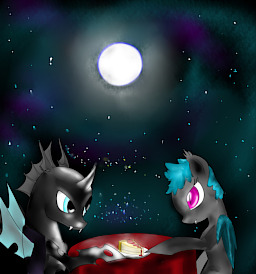 Source
After an alarming trip through a black hole in his fridge, Nigel M. Chalmers finds himself in a colourful peaceful country populated with a throng of friendly ponies... in the body of one of their nation's worst enemies. Of course it all goes to pot.
Follow him as he attempts to make sense of his new body, makes new friends and maybe even finds love...
Or not, after all this is Nigel we're talking about, all he's probably going to do is insult everyone and drive everyone insane.
Follow the gripping tale of action, comedy and romance.
Will Nigel make it back home in time for the office Christmas party? Will he avoid a painful death at the hooves of multi-coloured Equines? Will he finally be re-united with his beloved cheesecake?
You can only find out by reading this fic, so fasten your seatbelts and prepare to get wrecked.
Edit: Well, someone did a great reading of the first chapter, thanks to KaBar41 for the reading.
The Reading of Chapter One
I wrote this fic as a side project to Nigel M Chalmers, Emperor and saviour-or-destroyer to try my hand at a transformation story. To all of you who hate the whole "Turned into a pony and makes friends with everyone" I'm going to shatter your misgivings like 300 kilograms of armoured Biped smashes a window. There will be violence in later chapters but for now it's just pure comedy.
Featured on the 12/5/2014
Coverart done by Avatar of Madness
Chapters (17)