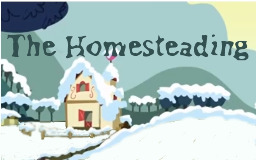 There may be spoilers in the comments. You've been warned.
For their first home together, Twilight and Applejack wanted a house close to Applejack's farm and big enough for Twilight's books, with a little something special besides. They settled on the perfect place, one of the oldest barns on Sweet Apple Acres, and had it converted into a comfortable house for their little family. But when strange things start happening just after they move in, Twilight finds that she has a mystery to solve before she can really call her dream house "home."
My entry into the TwiJack Hearth's Warming Contest.
Chapters (4)