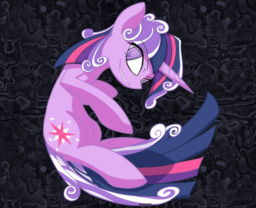 Source
We all know what happened during Lesson Zero. Twilight Sparkle screwed up big time. But she got off the hook. Nothing bad happened. No dire consequences to speak of. Nothing in her life changed for the worse.
But what if something did? After all, that's how all fanfictions start. Just changing one detail, no matter how small. Just one minor detail. In this case, it concerns something being born inside the head our little Twilight that day.
Look out Twilight, because you've got a new roommate in your psyche. She's everything you aren't. She's sporadic. She's unconventional. She's absolutely insane. She hates your guts.
Her name is Screwball.
Chapters (4)