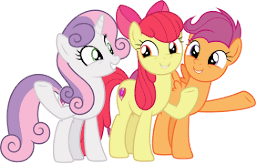 The Cutie Mark Crusaders are celebrating the anniversary of their decision to form a polycule. However, when Sweetie Belle loses her gift to Scootaloo on their way back to the old clubhouse -- she's left with a tough decision on what to do next.
---
Narrated by Straight to the Point Studios
Written for wishcometrue.
Consider supporting me on Patreon because I'm bad at life.
Chapters (1)