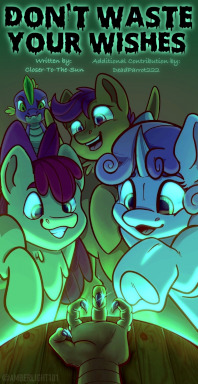 "I'm throwing caution,/What's it gonna be?/Tonight the winds of change are coming over me." -The Killers, 'Caution'
At the Ponyville Farmer's Market, the Cutie Mark Crusaders find a strange chicken talon that can grant them whatever their heart desire. Despite the warnings from the merchant about the price they each may pay, the fillies are excited for their wishes. What could possibly go wrong?
---
Cover art commissioned from AmberLight101.
Additional Contribution from DeadParrot222.
Chapters (5)