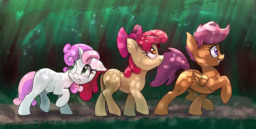 Source
The Everfree is a strange place with hazards and geometries that don't exist anywhere else in Equestria. The Cutie Mark Crusaders aren't afraid though. No sir. Especially not of overly friendly strangers with hidden faces.
Done as a mood, detail, and descriptive exercise for myself. Hints toward the identity of the stranger are woven into the narrative word choices with the hope that the reader figures things out just before the characters do. Let me know if I made the clues either too subtle or too obvious.
---
This is an entry in the Snippet Series, an anthology of old oneshots I (and my good buddy Str8aura) wrote based around interesting pics I found. New ones will be posted every Thursday for the foreseeable future.
Chapters (1)