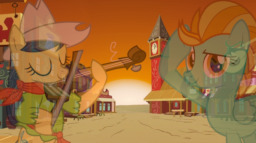 Source
Walking home through an empty, early-morning town is the perfect time to tell someone close how much they mean to you. Lightning Dust desperately wishes that she could, but no matter how hard she tries, she can't figure out how to tell Fiddlesticks that she loves her.
---
Written for The Red Parade
Consider supporting me on Patreon because I'm bad at life.
Chapters (1)