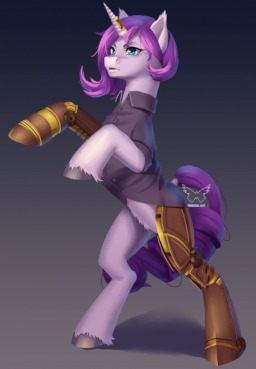 In the dreary city of Canterlot, all that remains of a once-mighty Equestria, Rarity is restless. She's a skilled machinist, owner of her own repair shop, but the work is dull and lifeless. She longs to feel like she's important, like she's making a difference, like she could be somepony.
And with the griffon army continually threatening Equestria's security, there's no better way to contribute than to join the Royal Canterlot Army. They're always on the lookout for skilled engineers, and with her talent, it's not like they'd make her actually fight anypony... right?
---
This story is a prequel to Lover of the Moon, but they can be read in any order. Originally written for the first Quills and Sofas Expanding Universes contest, where it won first place.
---
Many thanks to Silent for creating such a fun universe to play in, and for inspiring this story. This story is posted with their permission.
Chapters (1)