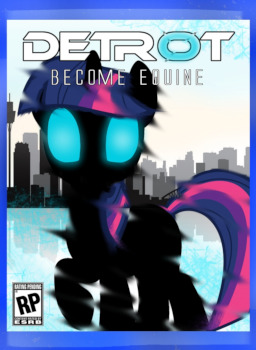 In the ever-advancing land of Equestria, equdroids were constructed to make the lives of its citizens easier. In recent years, however, they seem to be malfunctioning and causing havoc. Attributed to a strange machine bug known as "deviancy" running rampant across many platforms, it seems as if the city of Detrot is the primary target, with the impression of things spiraling out of control as the machines begin to act beyond their initial programming.
While in the fog of uncertainty, something monumental brews in the mist.
The equdroids... machines simply meant to look as pony as possible... begin acting as equine as possible. Are they really showing emotion... or are they simply emulating expressions?
---
Detroit: Become Human Crossover
---
Please expect an erratic update schedule, at least until I finish up my other story. Thank you.
Chapters (15)