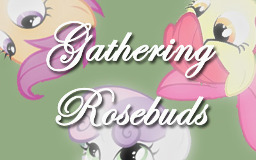 Things change.
The Crusaders all got their cutie marks years ago. Now Apple Bloom is living in mortal dread of becoming a mare, Sweetie Belle is keeping an ever changing list of which colt she wants to be her very special somepony, and Scootaloo is leaving for flight school in Cloudsdale at the end of the summer.
It's a time for first kisses, changing friendships, and new ways of thinking about their bodies and themselves as three best friends to decide what kind of ponies they're going to become, and how they'll survive the bumpy road of growing up. But however they do it, they'll do it together.
Because some things never change.
Warning: This is rated teen, and contains NO SEX, even off screen. But it does contain frank talk about sex and sexuality, and is inspired by the young-adult books of Judy Blume ("Are You There God? It's Me, Margaret" and "Forever.") Since these books are typically read in middle or high school, I felt teen was appropriate. If readers or mods disagree, please let me know.
Thank you to DbzOrDie, Jackie, Twifight Sparkill, First_Down, and TheRealRainbowDash for pre-reading, proof reading, and combinations of both.
Chapters (3)