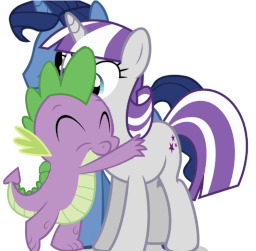 It hadn't been too long since Equestria experienced its largest power-exchange to date, with Princesses Celestia and Luna stepping down to allow Twilight Sparkle to take the throne. A lot of crazy events may have transpired during that time, including the defeat of three of the nation's largest threats at once, but it didn't take long for Equestria to settle back to a period of calm, tranquil peace.
Unfortunately for the new ruling Princess, recent developments seemed to cause her Royal Assistant to have some issues that are difficult to explain. And after a lengthy argument which led to a blowout from the little dragon, Twilight was left feeling hopeless when Spike flew from the castle in tears.
Now it's up to their parents, Twilight Velvet and Night, to find Spike and get to the bottom of his problems. Will the Royal Assistant be able to open up to his adopted parents? And can the couple get through to Spike, and help him feel better about his insecurities?
Note: This story was the winner of February's Patreon Commission Story Poll. If you want to see more of my upcoming projects, or just want to show your support for a freelance writer, please consider following me on my official Patreon page: https://www.patreon.com/TheVClaw
Chapters (1)